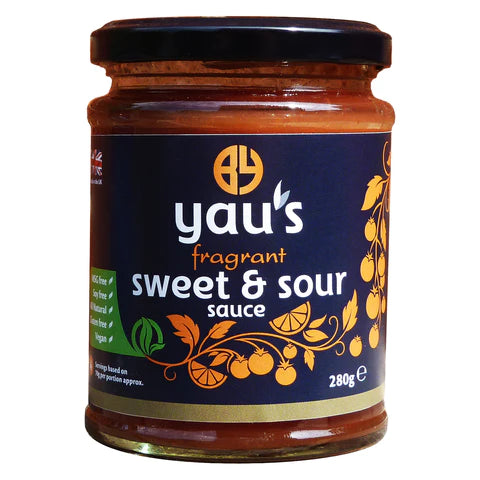 Yau's Sauces from the Far East
Original price
£3.50
-
Original price
£3.50
Inspirational flavours from the Far East
At Yau's it's all about the taste. We've done the hard work, all you need are some basic ingredients, a hot wok and a little imagination!
Sweet & Sour Sauce - Yau's use only natural ingredients and no white sugar. Our vinegar is apple cider vinegar, and we use date paste for sweetness and citrus juices for a fruitier sourness. Yau's Sweet and Sour sauce is great for adding to stir-fries, goes particularly well with chicken and prawns, but it's also fantastic with fish.
As it's ready to eat straight from the jar, Yau's Sweet and Sour is a fantastic dipping sauce too. Dip spring rolls and dumplings, or pour over chips.
Ingredients: Water, Apple Cider Vinegar, Demerara Sugar, Tomato Puree, Orange Juice, Date Paste, Lemon Juice, Tapioca Flour, Salt.
Free from Gluten, Diary, Nut, Soy, All Natural Ingredients and Vegan friendly.
Hoi Sin Sauce - A rich Chinese barbecue style sauce that's as good for stir-frying as it is for marinating. Packed with that familiar Chinese flavour that is so widely used, particularly with pork.
Smear onto pancakes for Aromatic duck wraps, marinade pork for "Char Siu", or just add a tablespoon to your stir-fries for an incredible taste that'll have you going back for more time and again.
Ingredients: Red Kidney Beans, Dark Brown Sugar, Tomato Puree, Water, Apple Cider Vinegar, Sunflower Oil, Sea Salt, Five Spice Powder, Garlic Powder, Star Anise, Ginger Powder, Cinnamon Powder, Allspice.
Free from Gluten, Diary, Nut, Soy, All Natural Ingredients and Vegan friendly.
We are not the manufacturer of the products sold on our website. We work hard to ensure that all our product information on our website is correct however, manufacturers may alter their product information. Actual product packaging and materials may contain more and/or different information that is shown on our website. Always read the labels, warnings and instructions provided with the product before using or consuming the product and not only rely on the information available on our website.