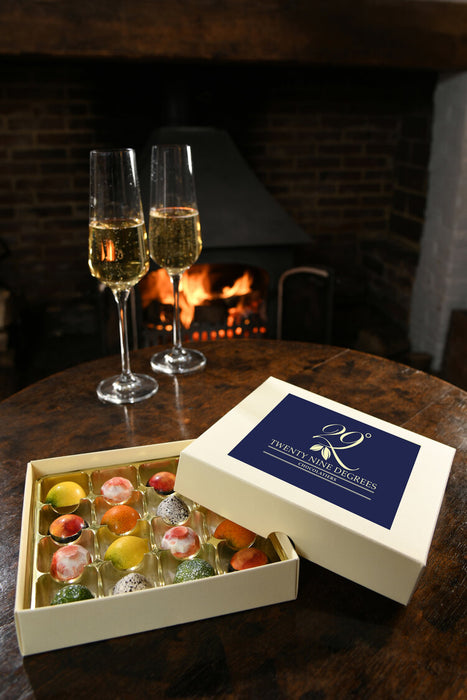 Twenty Nine Degrees Hand-crafted Chocolate
Original price
£12.99
-
Original price
£12.99
Each chocolate is unique, as they are hand-crafted by a dedicated team and each box contains 9 chocolates and handmade in the British Isles.
The Aromatic Collection is full of lighter, fruitier flavours. All of these flavours are alcohol free so are perfect as a gift for someone younger; or as a daytime treat as well. Not only do they look amazing, they taste it too. The flavours in our Aromatic Collection are: White Chocolate and Vanilla Lemon Dark Chocolate Orange Coconut, Lime and Cardamom Raspberry Mango
The Club Collection is full of dark, rich flavours and also contains all of our alcoholic bonbons. They're the perfect after dinner treat for anyone who likes a wee tipple. The flavours in our Club Collection are: Salted Caramel Stem Ginger Peanut Praline Rum and Raisin Whipped Whisky and Honey Pecan, Maple and Bourbon Almond and Amaretto.
The Vegan Box features 6 beautifully decorated different flavours. It features a vegan version of our popular Raspberry Bonbons, our Vegan Mango Bonbon as well as 4 BRAND NEW FLAVOURS! They're the perfect summer chocolate to enjoy with friends! Our vegan box contains: Vegan Fresh Mint Vegan 54% Dark Chocolate Vegan Rhubarb Vegan Coffee Vegan Raspberry Vegan Mango
Milk Chocolate & Sea Salt Bar 100g
What's not love to love about a massive bar of chocolate? Our smooth and sweet milk chocolate pairs beautifully with the contrast of sea salt. If you like something sweet but not as sweet as white chocolate, this is the choice for you!
Ingredients
Milk Chocolate (Cocoa Solids 33.6% minimum, Sugar, Cocoa Butter, Whole Milk Powder, Emulsifier (Soya Lecithins), Natural Vanilla Flavouring), Salt
Colour: E102, E132, E133, E171, E129 (Some E numbers may have an adverse effect on children)
Dark Chocolate & Salted Caramel Bar 100g
We've expanded (literally) our most popular bonbon into a bar! 10 times heavier than our bonbon, this is the ideal way to treat yourself if you're a caramel lover. Our smooth dark chocolate filled with our rich salted caramel is the definition of luxury.
Ingredients
Dark Chocolate (Cocoa Mass, Sugar, Emulsifier (Soya Lecithins), Cocoa Solids 54.5% minimum), Cream (Milk), Sugar, Butter (Milk)
Colour: E102, E132, E133, E171, E129 (Some E numbers may have an adverse effect on children)
Recycling Process - Recycling packaging that is sent to us in orders from our suppliers (e.g. bubble wrap or packing paper) are reused to make sure your chocolates arrive safely. Making sure packaging is reusable and recyclable (may vary depending on your local area). All of the packaging is removable so our boxes can be reused as well as recycled! (We've found they make excellent jewellery boxes).
We are not the manufacturer of the products sold on our website. We work hard to ensure that all our product information on our website is correct however, manufacturers may alter their product information. Actual product packaging and materials may contain more and/or different information that is shown on our website. Always read the labels, warnings and instructions provided with the product before using or consuming the product and not only rely on the information available on our website.