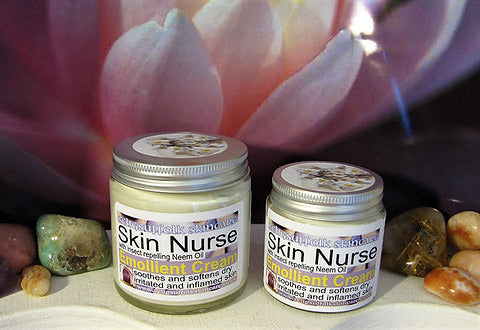 Selig Suffolk Skincare - Skin Nurse 60ml
Original price
£8.95
-
Original price
£8.95
Selig Suffolk Skincare is a small business located in the market town of Halesworth, specialising in a range of handmade, wholesome skincare products.
Skin Nurse is a superb emollient cream to soothe and soften dry, irritated and inflamed skin, providing the many benefits of Neem oil, including its insect repelling action.
Active Ingredients
Organic Cold-pressed Hemp (Cannabis sativa) Seed Oil ~ containing a rich source of essential skin nutrients, this oil has been clinically proven to remedy dry, damaged skin, and is especially helpful for conditions such as eczema, dermatitis and psoriasis. Trapping moisture inside the skin, it also protects against dry air, pollution, detergents and climatic elements ~ an excellent anti-oxidant.

Organic Neem (Azadiraachta indica) Oil ~ from the sacred Neem Tree of India, known as the 'village pharmacy' by those who have faith in its limitless abilities, the oil is soothing, anti-bacterial and anti-fungal, and aids in the healing of many skin conditions, also providing the added benefit of repelling insects.
Calendula officinalis Oil & Calendula officinalis tincture ~ both of these have a repairing action, combined with the effects of purifying and toning the skin. The soothing and calming anti-inflammatory action reduces skin permeability, and by improving lymphatic circulation, it helps prevent the buildup of toxins that can cause conditions such as acne.
Allantoin Powder ~ A synthetic version of the active component found in the roots of the Comfrey Plant. It promotes skin cell proliferation which makes it ideal for damaged skin conditions such as acne, eczema and dermatitis, and makes sensitive skin more resilient and less reactive. It also enhances the desquamation of dead skin cells to reveal the brighter, smoother skin beneath.
Wild Pansy (Viola tricolor) ~ has an excellent depurative action on the skin, cleansing away impurities which can help relieve various skin conditions.
Please note: Although we make every effort to ensure this information is correct and accurate, we cannot be held liable in instances where it is incorrect. Always read the label on the product when you receive it, and react to the manufacturers guidelines.