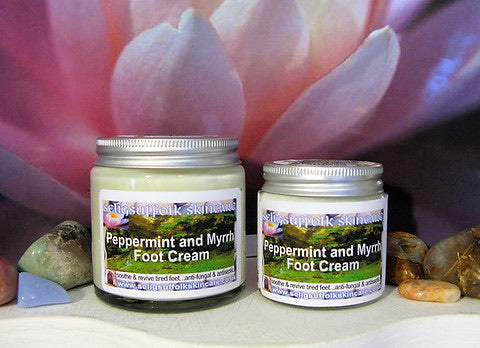 Selig Suffolk Skincare - Peppermint and Myrrh Foot Cream 60ml
Sold out
Original price
£9.75
-
Original price
£9.75
Selig Suffolk Skincare is a small business located in the market town of Halesworth, specialising in a range of handmade, wholesome skincare products.
Combining the comforting woody undertone of Myrrh oil with the rejuvenating aroma of Peppermint, soothe and revive your tired feet with this luxuriously rich moisturising cream, and discover how much better the rest of you feels too.
Active Ingredients
Siberian Sea Buckthorn (Hippohae rhamnoides) Pulp Oil ~ the richest oil on earth, a tree oil that contains an unbelievable abundance of health promoting bioactive essential fatty acids, vitamins and minerals.
Essential oils ~ Peppermint (Mentha piperata) to stimulate, cool and soothe. Myrrh (Commiphora myrrha) since ancient times has been highly valued for its antiseptic and anti-inflammatory healing properties, especially good for cracked heels. Its anti-fungal action also makes it useful for conditions such as Athlete's Foot.
Allantoin Powder ~ a synthetic version of the active component found in the roots of the Comfrey Plant. It promotes skin cell proliferation which makes it ideal for damaged skin conditions such as eczema, dermatitis and cracked heels, also making sensitive skin more resilient and less reactive. The desquamation of dead skin cells is also enhanced, revealing the smoother skin beneath.
Please note: Although we make every effort to ensure this information is correct and accurate, we cannot be held liable in instances where it is incorrect. Always read the label on the product when you receive it, and react to the manufacturers guidelines.