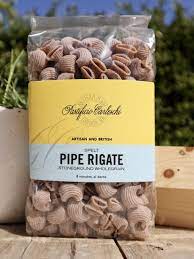 Pastificio Carleschi Pipe Rigate Spelt Wholegrain Pasta 400g
Original price
£2.75
-
Original price
£2.75
Introducing our flavourful spelt pipe rigati made from wholegrain stoneground British spelt. This new shape looks somewhat similar to a snail shell and has ridges on its surface (which will help the sauce cling to it!).
We think it is important to acknowledge and support the small, young, mills and farms who are using sustainable and regenerative farming methods, including agroforestry, to work towards an extensive system. We are very happy that we can back their hard work by adding this spelt pasta to our range.
Spelt was an important staple food in parts of Europe from the Bronze Age to medieval times which started losing it's popularity around the 19th century however it is making its comeback as a health food.
It is an excellent source of carbohydrates and dietary fibre, being particularly rich in iron, magnesium, phosphorous, zinc and niacin (vitamin B3). It is also rich in micronutrients such as calcium and vitamin E.
Contains gluten and not suitable for people with celiac disease but should be easy to digested by people with a wheat intolerance or sensitivity due to its protein molecular structure being weaker.
Its taste has been compared to the likes of toasted almond, light brown walnut, toffee and caramel. It can be enjoyed however you like but we recommend trying this pasta with pulses in the sauce, it's fantastic! We make sure none of the amazing nutritional and health benefits of this grain are lost in the milling process. Not to degenerate any of the vitamins, we produce and dry our pasta at low temperature.
*Comes in plastic free packaging – fully compostable bags certified for both industrial and home composting environments, as well as for marine biodegradation.
Cooking time 8 minutes, al dente
Nutritional Value - per 100g
Energy values kCal/kJ 346/1462 Protein 10.9 Fat 2.3 (Saturated fat) 0.6 (Mono-unsaturated) 0.5 (Poly-unsaturated) 1.2 Carbohydrate 66.2 (Sugars) 7.6 Fibre 8.3 Salt 0.03
Contains GLUTEN, not suitable for coeliacs.
We are not the manufacturer of the products sold on our website. We work hard to ensure that all our product information on our website is correct however, manufacturers may alter their product information. Actual product packaging and materials may contain more and/or different information that is shown on our website. Always read the labels, warnings and instructions provided with the product before using or consuming the product and not only rely on the information available on our website.