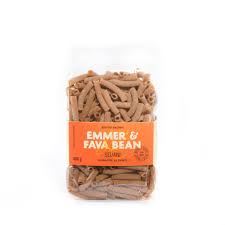 Pastificio Carleschi Emmer & Fava Bean Sedani Pasta 400g
Original price
£3.85
-
Original price
£3.85
There are many reasons why we, at Carleschi, are so proud of our Emmer and Fava bean pasta. First of all, it is the result of a very exciting collaboration with Hodmedod's in Suffolk. They work together with local farmers to search out and develop production of British grains and pulses (beans, peas, lentils and chickpeas).
Emmer is a very healthy cereal that's rich in fibre, protein, minerals, carotenoids, other vitamins and antioxidant components, and poor in fats. Fava beans too are dense with nutrition and have no saturated fat or cholesterol. They boost a high concentration of vitamins (thiamin, vitamin K, vitamin B-6), minerals (potassium, copper, selenium, zinc, magnesium), protein and fibre nobili (soluble fibre) at one third of the calories content of grains.
In short, if you combine Emmer and Fava bean together then you have a super-pasta: packed with nutrients, soluble and insoluble fibre, a complete source of lean natural protein at a much lower intake of calories, isn't that great?
To make sure not to burn out all this goodness; we slow dry our pasta at a low temperature. And, we take all the time it needs to make sure that our Emmer and Fava Bean, Sedani Rigati, cooks perfectly al dente in 8 minutes.
We think it looks and taste delicious: it possesses a wonderful velvety rough surface; has a deep yet delicate chestnut colour; and an intense sweet flavour with a gentle hint of fresh fava bean, reminiscent of those summer days when you squeeze the beans out of their pods.
*Comes in plastic free packaging – fully compostable bags certified for both industrial and home composting environments, as well as for marine biodegradation.
Weight 400g
Nutritional Value - Energy values kCal/kJ 344/1453 Protein 16.4 Fat 2.2 (Saturated fat) 0.6 Carbohydrate 60.3 (Sugars) 9.3 Fibre 8.5 Salt 0.04
Ingredients: Stoneground Wholegrain Emmer (WHEAT), Fava Bean
Contains GLUTEN, not suitable for coeliacs.
We are not the manufacturer of the products sold on our website. We work hard to ensure that all our product information on our website is correct however, manufacturers may alter their product information. Actual product packaging and materials may contain more and/or different information that is shown on our website. Always read the labels, warnings and instructions provided with the product before using or consuming the product and not only rely on the information available on our website.