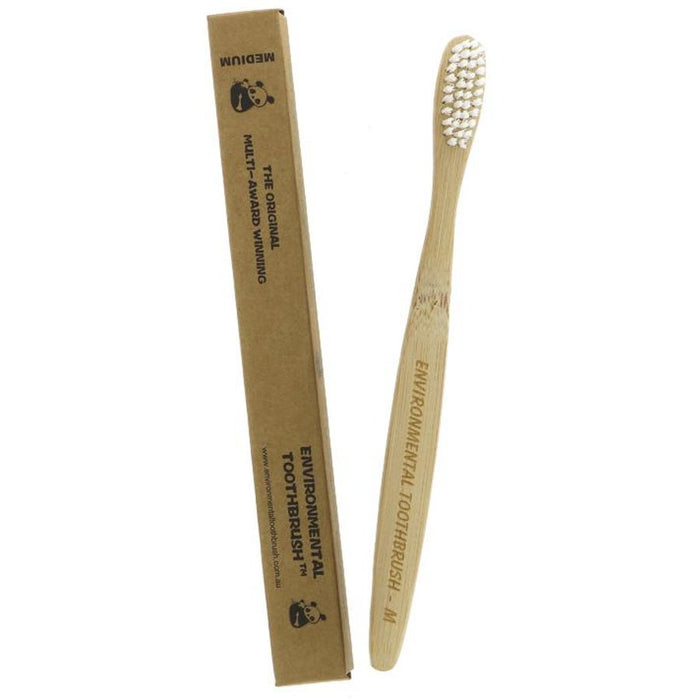 The Original Environmental Toothbrush Bamboo - Sustainable and Biodegradable
Original price
£2.75
-
Original price
£2.85
Bamboo Toothbrush - Medium Adult
Bamboo Toothbrush - Child
PRODUCT INFORMATION The handle is made of MOSO bamboo, an environmentally sustainable timber. Bamboo is technically considered a member of the grass family. It is the fastest growing plant on earth, and incredibly abundant. Our bamboo is cultivated for between three to five years, and then harvested. It re-generates itself naturally, with minimal rain and without the need for harmful pesticides. In fact, by harvesting and using the bamboo, we help to control unwanted spread into agricultural and natural forest areas. Our bamboo is grown by many local farmers in China (NOT PLANTATION).
The bamboo is heat treated to carbonise the surface of the bamboo, giving it a quality finish and good service life. The carbonisation finishing process provides water resistance and prevents the growth of microbes (bacteria and moulds) during normal use.
THE BRISTLES are made from a BPA FREE polymer resistant to microbial growth during normal use, to ensure safety and durability. The other main question we get asked is about the manufacture of the toothbrushes - YES our toothbrushes are fair trade.
We have tried to bring you a toothbrush that is better for the environment- over the years everyone had been misled by manufactures about bristles being made of Nylon 4 (this is not true). We still believe that our toothbrush is a better alternative to a full Plastic toothbrush.  Better to be 99% Bamboo than 100% PLASTIC
Please note: Although we make every effort to ensure this information is correct and accurate, we cannot be held liable in instances where it is incorrect. Always read the label on the product when you receive it, and react to the manufacturers guidelines.