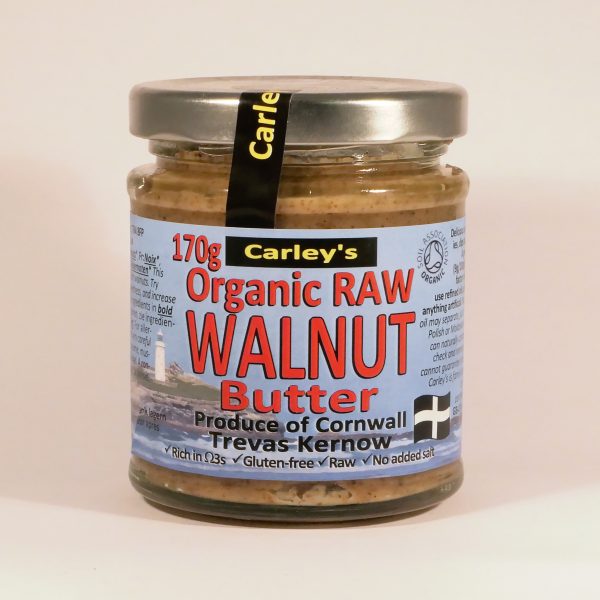 Carley's Vegan & Gluten Free Organic Raw Walnut Butter
Original price
£4.45
-
Original price
£4.45
Carley's of Cornwall is one of Europe's leading manufacturers of pure organic nut and seed butters and organic chocolate spreads all made in their 100% dedicated organic zero carbon eco-factory in the heart of Cornwall.
100% raw Organic Walnuts, nothing added, nothing taken away. We gradually cool mill whole sweet Polish or Moldovan Walnuts to a velvety smooth luxurious nut butter. It doesn't get much simpler than this.
Organic Raw Walnut Butter 170g - incredibly nutritious and delicious and great for baking too! Try some added to a smoothie for a delicious indulgent nut milk treat. Great in a coffee and walnut cake!! We choose the Moldovan or Polish nuts for their mellow creamy flavour with that distinctive bittersweet edge. Like all nuts, walnuts contain good fats, such as monounsaturated and polyunsaturated fats (PUFAs), but they are also a good source of the essential fatty acid omega-3. They also contain iron, selenium, calcium, zinc, vitamin E and some B vitamins.
Our nut and seed butters are great for coeliacs or those who follow a gluten free diet, as we know from making them, some gluten free recipes can be dryer than gluten containing versions, add a dollop of a Carley's nut or seed butter and moist cakes and bakes reign supreme again!
We don't add salt to any of our nut or seed butters, easier to add it than to take it away! If you prefer a touch of salt simply sprinkle a bit into your jar then stir it through. There is one exception! We add a tiny touch of natural sea salt to our new Smokey Chilli Peanut Butter.
Raw
Vegan
No palm fat
Gluten Free
No added salt
No added sugar
Nothing artificial
No emulsifiers
No GM
100% Certified organic.
We are not the manufacturer of the products sold on our website. We work hard to ensure that all our product information on our website is correct however, manufacturers may alter their product information. Actual product packaging and materials may contain more and/or different information that is shown on our website. Always read the labels, warnings and instructions provided with the product before using or consuming the product and not only rely on the information available on our website.