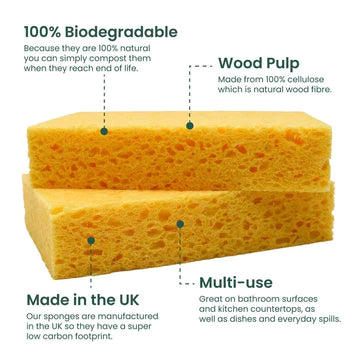 Eco Vibe Compostable Sponges x2
Sold out
Original price
£3.99
-
Original price
£3.99
The sponges are pretty big and if you like to get more for your money, you can cut the sponges in half and get 4 for the price of 2!
They work great on bathroom surfaces, kitchen countertops, washing the dishes...they're absolutely perfect for cleaning all around the house! Each sponge can absorb and retain up to 10x its own weight in water and can last through many tough cleaning jobs!
They're hygienic, durable, eco friendly, reusable and fully biodegradable. The sponges are made from 100% cellulose which is natural wood fibre. That means these wonderful sponges are 100% plastic-free - no microplastics!
Most common kitchen sponges are made from plastic and can't be recycled or composted. They're usually only used for a couple of weeks to clean the kitchen and kitchen appliances before they're thrown away, where they'll contribute to plastic pollution for hundreds of years before eventually breaking down into microplastics.
What's more, mass-produced synthetic sponges are all made with petroleum, bleach, assorted sulphates and a whole slew of nasty chemicals. Even after you throw old sponges away, the bacteria-killing triclosan they're filled with negatively affects aquatic ecosystems, especially algae that other animals depend on.
But don't worry, these cellulose sponges are a great alternative to chemical-filled plastic sponges! These sponges are made from wood fibres which are much more eco-friendly as they go through a less toxic manufacturing process and they are biodegradable too.
LOOKING AFTER YOUR SPONGE
To help keep your cellulose sponge free of nasty bacteria, keep it as dry as possible between uses.
You can sterilize them by soaking for a few minutes in boiled water, microwave heating damp sponges or pop in the dishwasher with a drying cycle.
Please note: Although we make every effort to ensure this information is correct and accurate, we cannot be held liable in instances where it is incorrect. Always read the label on the product when you receive it, and react to the manufacturers guidelines.