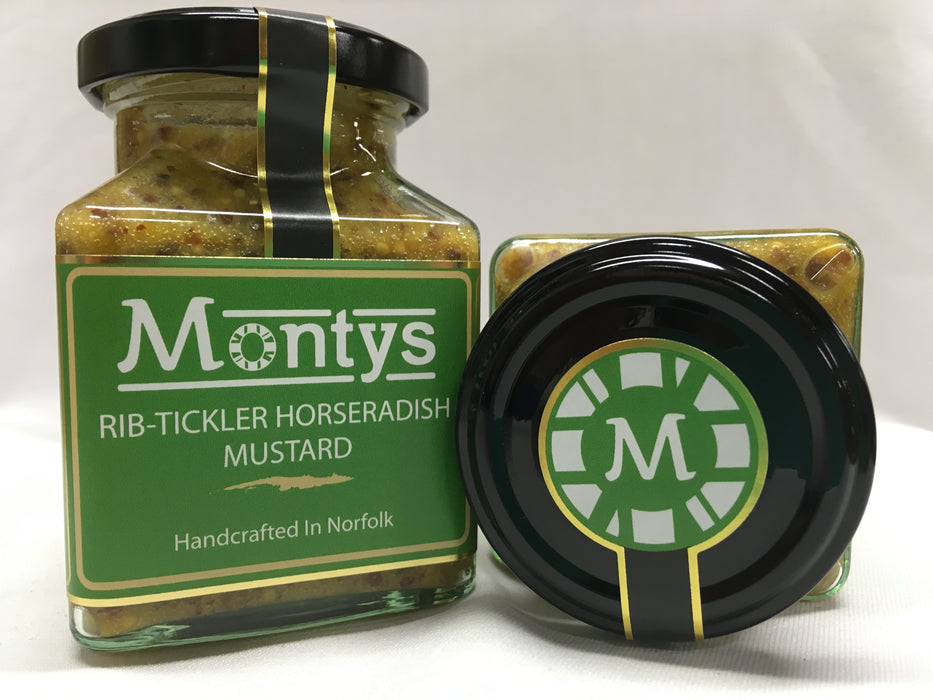 Montys Wholegrain Mustard with Honey & Cinnamon 200g
Original price
£4.00
-
Original price
£4.00
Montys Wholegrain Mustard with Honey & Cinnamon 200g
Beautifully warming this is a utterly soft wholegrain with a sweetness to make you smile. Theres nothing difficult here, enjoy it with chicken or however you may wish and know that Montys cuts the mustard, smiling is inevitable.
Ingredients: (Mustard powder, Mustard seed), Vinegar, Sugar, Norfolk rapeseed oil, Honey, Norfolk Ale contains(Barley malt), Salt, Cinnamon.
Montys Rib-Tickler Horseradish Mustard 200g
This classically simple mustard combines the best of both worlds. Using the heat from raw horseradish and the flavour from our unmistakable wholegrain, this is mustard to warm the soul and to tickle your taste buds. Montys Cuts the Mustard!
Ingredients: White Wine Vinegar, MUSTARD SEEDS, Sugar, Norfolk Rapeseed oil, MUSTARD POWDER, Horseradish Powder, Salt, Horseradish, Garlic Powder (Sulphites)